A funny transformation - what's about geometry

Click the button to see our magic triangle
Here it is - the truely magic triangle!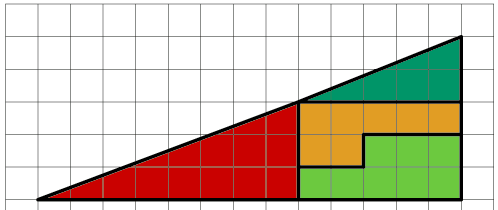 Please click the button to see what I mean
And here is the result of a magic transformation
bzzzzzzzzzzzzzzzzzzzzzzzzzzzzzzzzzzzzzzzzzzz transform
bzzzzzzzzzzzzzzzzzzzzzzzzzzzzzzzzzzzzzzzzzzz Transformation done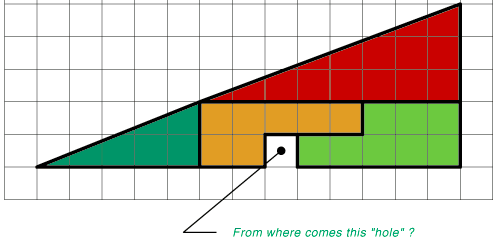 Hmm, I think I can't explain this. I thought geometry was an invariant since the days of Euklid.
But I've heard, maybe if you drop the axiom of parallels, you will reach the hyperbolic geometry, a little portion of a time warp and maybe, maybe your will find the solution to the lost square...
Nichts sagend? - So war das gedacht.
Wir danken Ihnen für Ihre Zeit.
---